Summer Fancy Food Show 2013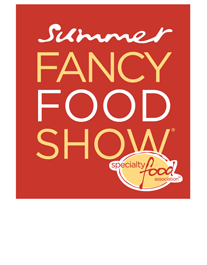 The Summer Fancy Food Show returned to New York City this year and with literally thousands of booths each offering some sort of potentially tasty treat to sample. It was the biggest food show we've ever seen. We, of course, go for the chocolate. And at the Javits Center and places all around the city, there was plenty of it.
The first chocolate stop we made (after crossing through a raucous gay pride parade) was to the Summer meeting of the Fine Chocolate Industry Association (FCIA). The association advances the causes of chocolatiers and especially chocolate makers via educational seminars and social events. It also runs a few research projects dedicated to seeking out great tasting cacao beans. The meeting included a panel discussion which was dedicated to the late Mott Green. Led by author and restauranteur Maricel Presilla the topic was on how "Cacao Hunters" find great beans (cacao) to make chocolate. Nat Bletter of Hawaii's Madre Chocolate explained how in Hawaii, which apparently lies at the northernmost part of the traditional zone where cacao can be grown, it's often too cold at night to ferment cacao naturally. Dan Pearson talked about how he started Marañón Chocolate after discovering cacao trees in Peru that were thought to be extinct. All he had really been looking for in Peru were new varieties of bananas. Now he's supplying the beans for Anthony Bourdain & Eric Ripert's notoriously expensive chocolate bar. (He told us some interesting stories later in the evening about hanging out with Bourdain while Bourdain was filming a segment about the cacao in Peru.)
But the big news from the meeting was ironically the demurely announced finalists of the International Chocolate Awards. Martin Christy of the chocolate review site Seventy Percent started the awards last year and joked that he learned from that experience to not  just announce the winners all at once, but instead draw it out by listing the finalists a few months in advance. Fans of DallasChocolate.org's Chocolate Conference & Festival will recognize many of the names on the list which include chocolate makers Patric, Askinosie, Amano, and El Rey. The rounds of judging are separated by region, so the finalists announced will now be pitted against the finalists from Europe. The awards are still going through some growing pains but should eventually become a very respected entity.
Houston's Tejas Chocolate was a notable finalist in the bar category and local chocolatier extraordinaire Dude, Sweet Chocolate was a finalist in the Spreads category. We wish them luck!
Of course, even though the awards are run from London, we'd put our money on the Americans taking most of the prizes.
The next two days we walked through the three food show halls — each filled end-to-end with specialty food vendors — meeting chocolatiers and chocolate makers and tasting their products. The thousands of booths housed vendors who produce pretty much everything a good foodie would enjoy. There were pickles, artisan salamis, olives and olive oils, yogurts, tons of cheese, cookies, beef jerky, chocolate, chocolate with beef jerky (we're not kidding), and more.
We tasted some great new bars from Massachusetts's Taza — their new "Tazitos" line — including a nice hazlenut crunch bar. The bars should be in stores in time for the Christmas season. (The main point of the Fancy Food Show is to introduce new products to buyers for retail stores. The process of getting products from producer to store takes time so the Summer show previews a lot of products for the Winter holiday season.) We also got a chance to see Amano Chocolate, Askinosie Chocolate, Fran's Chocolate, Cacao Atlanta Chocolate Company, Valrhona, Poco Dolce, new company Kohler Chocolates (yes, it's owned by the faucet company and, yes, it was delicious), Vosges Haut-Chocolat, and about a dozen others.
In the wilds of New York (has it always been this crowded?) we found an incredible selection of craft chocolate bars at The Meadow including some that are pretty hard to get in Dallas. There was a wall of Italian chocolates at the impressive Eataly (it reminded us of an Eatzi's on steroids). Chelsea Market's Jacques Torres store was full of beautifully tempting chocolates. And with all that going on we missed an impromptu tour of chocolate shops in Brooklyn led by Madame Cocoa. We suppose there's always next year…
Comments
comments