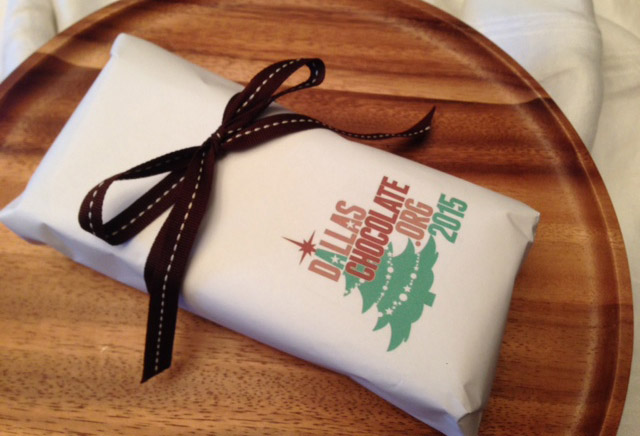 Click here to Pre-order your 2015 Holiday Chocolate Set today!
The holidays are all about sharing and DallasChocolate.org wants to share the great talents of our Texas chocolate makers and chocolatiers with you this year. That's why we are proud to introduce our "Friends With Chocolate" collection for the 2015 Holiday Season.
This curated set of five chocolate bars come from the finest chocolate makers  and chocolatiers in Texas. All for you, nicely wrapped, and all in one place. Supplies are limited, so order yours today!
Each set is wrapped and includes an information card about the bars enclosed.  The price is $50.  (Tax and shipping not included).
The Five Bar Set Includes unique treats from the following Texas chocolate shops:   
Dr. Sue's Chocolate: Grapevine, Texas
Dark chocolate bar with cranberry and orange.
Kate Weiser Chocolate:  Dallas (Trinity Groves), Texas
Seasonal Candy Bar.
SRSLY Chocolate: Austin, Texas
Gingerbread bar:  70% dark chocolate, stone ground, with gingerbread flavor.
Wiseman House:  Hico, Texas
Joyeux Noel Bar:  61% dark organic chocolate with roasted crunchy coconut and Montmercy cherries.
Sublime Chocolate: Allen, Texas
70% dark chocolate square with peppermint flavor and chocolate nib crunch.
Click here to Pre-order your 2015 Holiday Chocolate Set today!
There are only 175 of these sets available,  so don't delay.  Once they are gone, they're gone!
Pre-orders will start shipping December 7th, 2015.
(Got something bigger in mind?
We're happy to help.
If you plan on ordering 5 or more sets, send us an email here.)