Ready to dive deep? Our hands on workshops will give you an even chocolatier experience!
New this year: Workshops will also be held at the F.I.G., both Saturday and Sunday, Sept. 7th and 8th.  Start times vary by class.
Stay tuned for all the details.
Tickets go on sale August 1, 2019
Key Details:
What:  2019 Dallas Chocolate Festival Workshops
Where:  The Fashion Industry Gallery   (The F.I.G.): 1807 Ross Ave #167, Dallas, TX 75201
When: Saturday/Sunday, September 7&8, 2019 Times TBD
Cost:  varies per class
Featuring:
Bean-to-bar chocolate making
Whiskey and Chocolate Tasting
Wine and Chocolate Tasting
and more!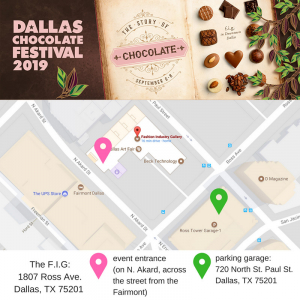 Check back soon for all the details on Festival Workshops.
Tickets go on sale August 1, 2019
Check out the D Magazine slide show retrospective of the 2018 festival and see what it's all about.  We hope you join us in celebrating all things chocolate in the heart of Dallas's Arts District at the F.I.G. (Fashion Industry Gallery) this September. Join our mailing list using the form in the footer to get insider information about ticket sales, event announcements, and all the news in Dallas Chocolate!