This is the central storyline of the 2019 Dallas Chocolate Festival: the Main Event!
Join us on Saturday and Sunday, September 7th-8th for a day full of amazing chocolate:
Chocolates to sample, treats to eat, lectures, demos, food trucks, a kid's area, and more!
Over 60 Exhibitors will be present at this event to sample and sell!
Tickets on sale now!
Key Details:
What:  2019 Dallas Chocolate Festival Main Event
Where:  The Fashion Industry Gallery   (The F.I.G.): 1807 Ross Ave #167, Dallas, TX 75201
Where to park: Valet at Akard entrance, Parking in Ross Street Garage
When:  Saturday/Sunday, September 7&8, 2019 11:00AM – 5:00PM  (entry times as 11:00AM, 1:00PM and 3:00PM)
Cost:  $35 per person,  children 4 – 11 $7.
Featuring:
Samples from over 60 Artisan Chocolate Makers
Shopping in the main marketplace from world class chocolate artisans
Kids area
Food Trucks
Lectures & Demos
Cool swag
Valet and lot parking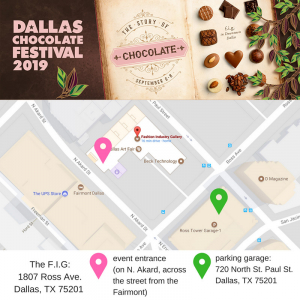 Lecture and Demonstration Schedule
The 2019 Dallas Chocolate Festival presents our Lecture and Demonstration Schedule. There are so many things to learn! Hear about about how chocolate is grown, sourced, and made. Learn how to taste craft chocolate correctly. Watch a demo to see how to make chocolate and chocolate treats at home! The industry experts making presentations bring a breadth and depth of knowledge and cannot wait to share it with you! Lectures and demos start most hours on the hour, and will wrap up at about 10 minutes 'til the next hour. Seats are available on a first come, first seated basis.  
Saturday, September 7th
Noon
Classroom:  Making French Pastry with Isabel Mota from My French Recipe
Lecture Room:  Everything You Ever Wanted to Know About Chocolate with Clay Gordon
1:00PM
Classroom:  How to taste chocolate with experts from Dandelion Chocolate
Lecture Room: Tales of Chocolate Sourcing in Central America with Shannon Neffendorf of 5 Mile Chocolate
2:00PM
Classroom:  Bean to Bar Chocolate Making at Home with Erin Andrews, owner of indi chocolate
Lecture Room: Chocolate Business, A Force For Good with Lauren Blanco of Markham & Fitz Chocolate
3:00PM
Classroom:  Tempering Chocolate and Making Chocolate Garnishes at Home with Omni Pastry Chefs Leen Kim and Ashleigh Wright
Lecture Room: Our Roots in Cacao:  The Story of French Broad Chocolate's Connections to Costa Rica with Jael Rattigan
4:00PM
Classroom:  Uncommon Stories of Chocolate Origins (with samples)  from Anjuli Dharna of Uncommon Cacao.
Lecture Room: The Next Chapter in Chocolate: Panel Discussion led by Fine Chocolate Industry Association Executive Director, Bill Guyton. Panelists: Kate Weiser of Kate Weiser Chocolate, Dan Domingo of Atlantic Cocoa Company, and Jim Elitzak from Zak's Chocolate.
Sunday, September 8th
Noon
Classroom:  How to Taste Fine Chocolate with Glenn Petriello of Chocotastery
Lecture Room:  Everything You Ever Wanted to Know About Chocolate with Clay Gordon
1:00PM
Classroom:  Chocolate and Cheese Pairings with Rich Rogers, cheesemonger and proprietor of Scardello.
Lecture Room: My Chocolate Story with Dr. Sue Williams of Dr. Sue's Chocolate.
2:00PM
Classroom:  The Origin Story of Cacao and Chocolate in Tabasco, Mexico with Clay Gordon, founder of TheChocolateLife.com
Lecture Room: The Heirloom Cacao Project:  Preserving Chocolate Varietals with Greg D'Alesandre of Dandelion Chocolate
3:00PM
Classroom:  Making Chocolate Treats at Home: Cookie Butter and Chocolate Mousse with Omni Pastry Chefs Kristina Kent and Sabrina Gonzales
Lecture Room: The Un-Belizeable Story of Maya Mountain Cacao with Anjuli Dharna of Uncommon Cacao
4:00PM
Lecture Room:  How To Get Started in Chocolate with Panelists Cristal Gonzales, Executive Pastry Chef of Fairmont Dallas; Steve DeShazo, Director of Food And Hospitality Institute at El Centro College; Erin Andrews founder of indi chocolate; and Jeanine Stevens, owner of Dallas By Chocolate.
Chocolate Makers:
LetterPress Chocolate (Los Angeles, CA)
Xocolla Chocolatier Artisan (Sugar Land, TX)
Potomac Chocolate (Woodbridge, VA)
Amano Artisan Chocolate (Orem, UT)
5 Mile Chocolate (Oak Cliff, TX)
Dandelion Chocolate (San Francisco, CA)
Escazú Chocolates (Raleigh, NC)
Markham & Fitz Chocolate (Bentonville, AR)
French Broad Chocolates (Asheville, NC)
Raaka Chocolate (Brooklyn, NY)
Arete Fine Chocolates (Spencer, TN)
Dripping Springs Chocolate Co. (Dripping Springs, TX)
Fresco Chocolate (Lynden, WA)
Waialua Estate Coffee & Chocolate (Waialua, HI)
Alkimia (Peru)
Zak's Chocolate (Scottsdale, AZ)
Maribea (Odessa, TX)
Almsjee Cocoa (Sugarland, TX / Sao Tome, Africa)
Madhu Chocolate (Austin, TX)
Casa Chocolates (San Antonio, TX)
Mucho Chocolate (Mexico City, Mexico)
Ecuadorian Chocolate Factory (Cedar Park, TX)
Cultura Chocolate (Denver, CO)
indi chocolate (Seattle, WA)
Check out the D Magazine slide show retrospective of the 2018 festival and see what it's all about.  We hope you join us in celebrating all things chocolate in the heart of Dallas's Arts District at the F.I.G. (Fashion Industry Gallery) this September. Join our mailing list using the form in the footer to get insider information about ticket sales, event announcements, and all the news in Dallas Chocolate!