It's the prologue to the 2019 Dallas Chocolate Festival story.
Join us on Friday, September 6th for a VIP night of fun:
Chocolates to sample, treats to eat, cocktails to drink, VIP goody bags, a chocolate fountain & more.
Over 60 Exhibitors will be present at this event to sample and sell!
Tickets go on sale August 1, 2019
Key Details:
What:  2019 Dallas Chocolate Festival VIP Party
Where:  The Fashion Industry Gallery   (The F.I.G.): 1807 Ross Ave #167, Dallas, TX 75201  (Valet on Akard)
When:  Friday, September 6, 2019 7:00PM – 10:00PM
Cost:  $75 per person
Featuring:
Samples from over 60 Artisan Chocolate Makers
Cocktails
Light Bites
Chocolate Fountain
Valet Parking Included
VIP Gift Bags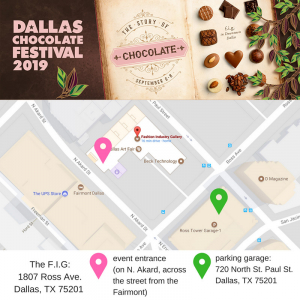 Tickets go on sale August 1, 2019
Chocolate Makers:
LetterPress Chocolate (Los Angeles, CA)
Xocolla Chocolatier Artisan (Sugar Land, TX)
Potomac Chocolate (Woodbridge, VA)
Amano Artisan Chocolate (Orem, UT)
5 Mile Chocolate (Oak Cliff, TX)
Dandelion Chocolate (San Francisco, CA)
Escazú Chocolates (Raleigh, NC)
Markham & Fitz Chocolate (Bentonville, AR)
French Broad Chocolates (Asheville, NC)
Raaka Chocolate (Brooklyn, NY)
Arete Fine Chocolates (Spencer, TN)
Dripping Springs Chocolate Co. (Dripping Springs, TX)
Fresco Chocolate (Lynden, WA)
Waialua Estate Coffee & Chocolate (Wahiawa, HI)
Alkimia (Peru)
Zak's Chocolate (Scottsdale, AZ)
Maribea (Odessa, TX)
Almsjee Cocoa (Sugarland, TX / Sao Tome, Africa)
Madhu Chocolate (Austin, TX)
Casa Chocolates (San Antonio, TX)
 * Participation may change without notice
Check out the D Magazine slide show retrospective of the 2018 festival and see what it's all about.  We hope you join us in celebrating all things chocolate in the heart of Dallas's Arts District at the F.I.G. (Fashion Industry Gallery) this September. Join our mailing list using the form in the footer to get insider information about ticket sales, event announcements, and all the news in Dallas Chocolate!