Get all the tools you need to help promote the 2018 Dallas Chocolate Festival.
Use the tools on this page to help your fans and followers know that you are participating in the Dallas Chocolate Festival and how they can come and support you there.
Event FAQ:
The Dallas Chocolate Festival is in its 9th year.
All festival details can be found at DallasChocolate.org
Tickets can be purchased at DallasChocolate.org 
There will be over 60 exhibitors including bean to bar makers, chocolatiers, pastry chefs, equipment makers and more!
The Main Event is Saturday, September 8th at the F.I.G. in Downtown Dallas (1807 Ross Ave.) from 11:00 – 5:00.  We are expecting 2000 guests.  Entry times are staggered to keep the flow steady all day.  Entry times are 11:00, 12:30, 2:oo and 3:30.  Family friendly.  Tickets are $35 for adults, $5 for kids.  Parking is $5 in the Ross Tower lot or $10 for Valet on Akard.
The VIP Party is Friday, September 7th at the F.I.G. in Downtown Dallas (1807 Ross Ave.) from 7:00 – 10:00PM.  We are expecting 500 guests.  Ages 21 and up.  Food, cocktails, and a VIP bag are provided to attendees.  Tickets are $75 (for an additional $25, VIP guests can return on Saturday). Valet parking on Akard is complimentary for this event.
The DCF Workshops are Sunday, September 9th at the Whole Foods Market at the SE Corner of Preston and Forest in Dallas (11700 Preston).  9:00 – 1:00 is a Bean to Bar chocolate making class.  2:00 – 4:00 is an in depth chocolate tasting class.  Instruction is geared to adults.  Tickets are $100 for the Bean to Bar class, $60 for the Chocolate Tasting Class, or $150 for both.  Spaces are limited.
Below is our event logo for social media posts.  Use these in a post or two to let your followers know you are coming.  We've also included some of our design elements with blank backgrounds.  Drop our images on top of your posts or use our outer space background to let people know you are coming.
Square Logo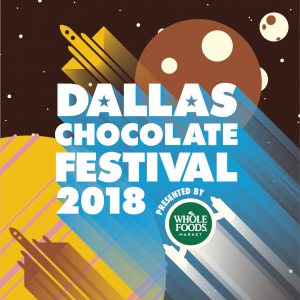 Event Title Graphic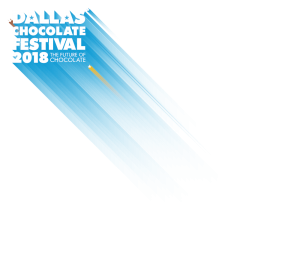 Outer Space Background Yellow Ship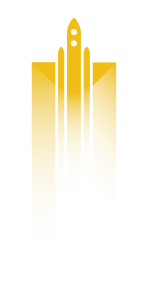 BrownShip

When promoting the festival here are some helpful copy points:
The theme "The Future of Chocolate"
Event Hashtags:  #DallasChocolate #DCF2018
Other hashtags that do well for Instagram Posts:  #ChocolateLife #DallasFoodFestival #DallasEats #BigD
Instagram  @DallasChocolate
Here are the HEX colors to match our logo:
Bright Yellow:  f0bd33
Pink: de94af
Blue: 2297cb
Brown: 975236
Cream: fdfbde
Check out the D Magazine recap of the 2017 festival and see what it's all about.  We hope you join us in  celebrating all things chocolate in the heart of Dallas' Arts District at the F.I.G. (Fashion Industry Gallery). Make sure to join our mailing list using the form in the footer to get up-to-date on ticket sales, event announcements, and all the news in Dallas Chocolate!