Dallas Chocolatiers & Shops:
We realize it comes as no surprise, but the Chocolate scene in Dallas has really stepped up its game for Valentine's Day. This year, there's not just chocolate for sale, but classes, tours and more.  Check out some of the sweetest treats in Big D this Valentine's Day.
Dude, Sweet Chocolates (Oak Cliff and beyond, TX)
Dude, Sweet Chocolates does it again with some amazing flavor combinations.  We're talking truffles with apricot brandy or passionfruit, lemon and pistachio chocolate toffee, and exotic love potion with zinfandel, orange liqueur and spices.  But, our favorite has to be the limited edition heart shown here.  Stop by one of their shops (Bishop Arts, Lower Greenville, Plano and Ft. Worth) and impress your Valentine with one of these treats.
Dr. Sue's Chocolate (Grapevine, TX)
Dr. Sue is taking a hands on approach this Valentine's Day.  She'll have chocolate making classes in her store on Main Street in Grapevine, Sunday Feb. 7th.  And, the Dr. Sue's crew will be at the Whole Foods at Preston/Forest all week for Valentine events:   there's a Wine & Chocolate class Feb 10, A Chocolate Demonstration in the wine & cheese department on Feb. 12, and a Valentine's extravaganza on the 13th that includes violins, a photo booth and a flower wrapping station to do along with the chocolate samples.
Kate Weiser Chocolate
Whether it's beautiful bon bons, whimsical love bugs or even an 8 inch chocolate bear with a tummy full of treats, Kate Weiser's artistry elevates your Valentine's chocolate gift giving.  Stop by Trinity Groves or her pop up in the Shops at Legacy and bring home some chocolate magic.
Dallas Caramel Company:
If you are looking for a unique treat this Valentine's Day, we suggest the Bacon Armadillos.  Dark chocolate, Texas pecans, and their signature creamy caramel, with real bacon folded in.  Or, if you need little gifts, the 3 piece pillow packs with chocolate and sea salt caramels will get you through the classroom or office party in style.  Come check 'em out at the Oak Cliff Farmer's market on Saturday morning.
Pure Chocolate Desserts by Zach (Dallas, TX)
Chocolatier and pastry chef Zach Townsend has two delectable classes at his studio.  Chocolate: Tree to Truffle will have sessions on Feb. 12 and Feb 14, and Chocolate and Wine paring will be available on Feb. 11 and Feb. 13.  Space is limited for all 4 sessions, so book online to save your spot!
Dallas by Chocolate
These foodie experts are doing it right. Tours will be running the entire Valentine weekend and feature exclusive dinners, wine parings, and other amazing treats.  Spots fill up fast, so book today for an unforgettable Valentine experience.
Nina Gourmet Brigadeiro
Nina Gourmet Brigadeiro has several Valentine's Day boxes available for the holiday. The treats are specially decorated in pinks and reds.They even have a collection of brigadeiro that includes a bottle of champagne!
DallasChocolate.org
Don't forget us!  We'll be around town sharing some chocolate happiness of our own.  Come see us at the Artisan Market at Williams Sonoma Northpark from Noon – 4:00 on Saturday, February 6th.  Or, come over to the Central Market on Lovers Lane at Greenville on Saturday Feb 6th from 3:00 – 7:00 to taste some Dick Taylor Chocolate.  It's Ah-maze-ing.
Beyond the Borders:  Domestic Chocolatiers that are Doing it Right:
There are some amazing chocolatiers out there from sea to shining sea…check out some of our favorites!
Chocolates El Rey
Chocolates El Rey has an amazing gift basket…with six bars made by Tim Gearhart (A Dessert Professional Magazine Top 10 World Chocolatier).  The blueberry one sound especially delicious.  Don't miss, order yours today!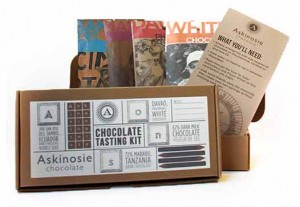 Askinosie Chocolate
US Chocolate Maker Askinosie was just recognized by Forbes as on for the 25 Best Small Companies in America. See what all the fuss is about with their chocolate tasting kit.  A tasting for 2…it's perfect for a romantic night in.  Or, check their gift guide if you need a little more inspiration.  Our favorites:  The Chocolate for Breakfast collection and the Chocolate Covered Malt Balls.  Yum!
Lake Champlain Chocolates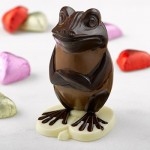 Yes, we realize that Lake Champlain is just a smidgen outside our Texas borders, but their chocolates are too amazing not to share. Try a heart full of truffles, a basket full of bars, or our favorite – the chocolate frog.  These treats are coming from Vermont, so get those orders in ASAP!
Poco Dolce Confections
If upscale truffles and caramels are more your thing, take a look at the beauties from San Francisco Confectioner, Poco Dolce. Our personal favorite, the Champagne and strawberries bon bon box.
Rakka Virgin Chocolate
They summed it up when they said, "Valentine's Day was really invented as an excuse to share chocolate."  Melt some hearts with their bean to bar deliciousness. They even have a holiday discount code:  HEART15 saves you 15% if you order by Monday, February 8th.