Dallas Chocolate is happy to share that Frankie V's Kitchen will be a featured vendor at the 2015 Dallas Chocolate Festival.  Frankie V is known for his amazing hot sauces, salsas, spreads and beverages, but did you know he also has a line of craft chocolate? His hand crafted bars will be available for sampling and purchase at the festival. Welcome to the 2015 Dallas Chocolate Festival, Frankie V!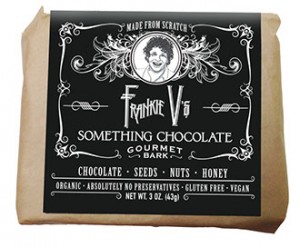 Frankie V's award winning Hot Sauces vary from medium to very hot and include organic ingredients and flavors that are extraordinary! His new drink mix, organicGreen Mary Cocktail Mix, has been a huge hit wherever introduced; is completely inspiring with vodka or beer, as a marinade or even a health drink by itself….include it in your detox plan!
Frankie V's Salsas are offered in a line of "savory and spicy" Classics or "sweet and spicy" Originals. Frankie V's continues to transform the ordinary into exceptional with his handmade nut and seed Spreads! Completely peanut free, gluten and preservative free! Pumpkin seeds, sunflower seeds, cashews and almonds are stone ground to extract flavor and oils, and then combined with 100% food based organic and locally sourced ingredients. Frankie V uses only organic Cacao which unlike processed dark chocolate, preserves much higher levels of the famous chocolate antioxidants. Proudly and lovingly made by hand in small batches in Dallas, Texas! Absolutely no preservatives, ever! Frankie V takes pride in making high quality food products that are great tasting and are good for you.